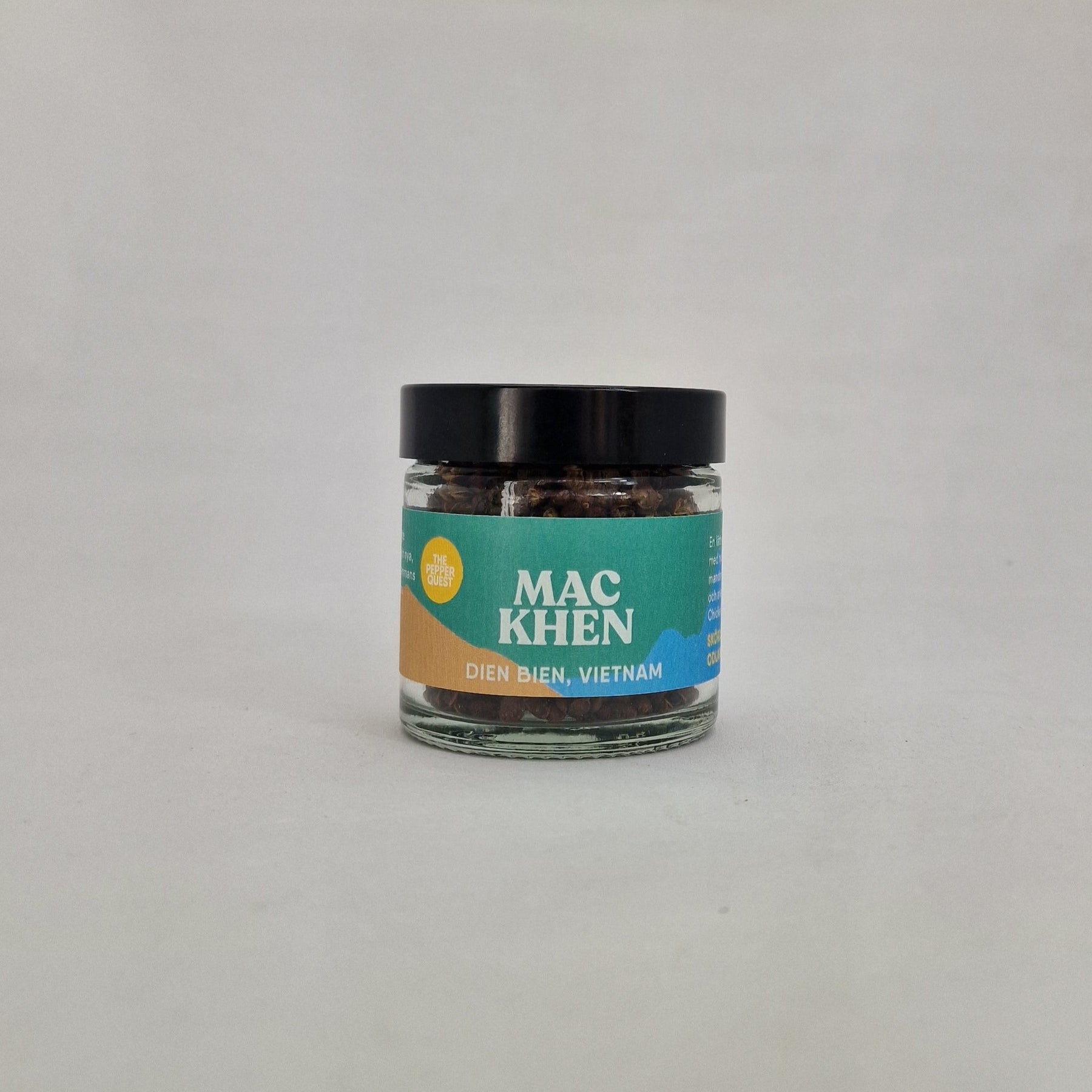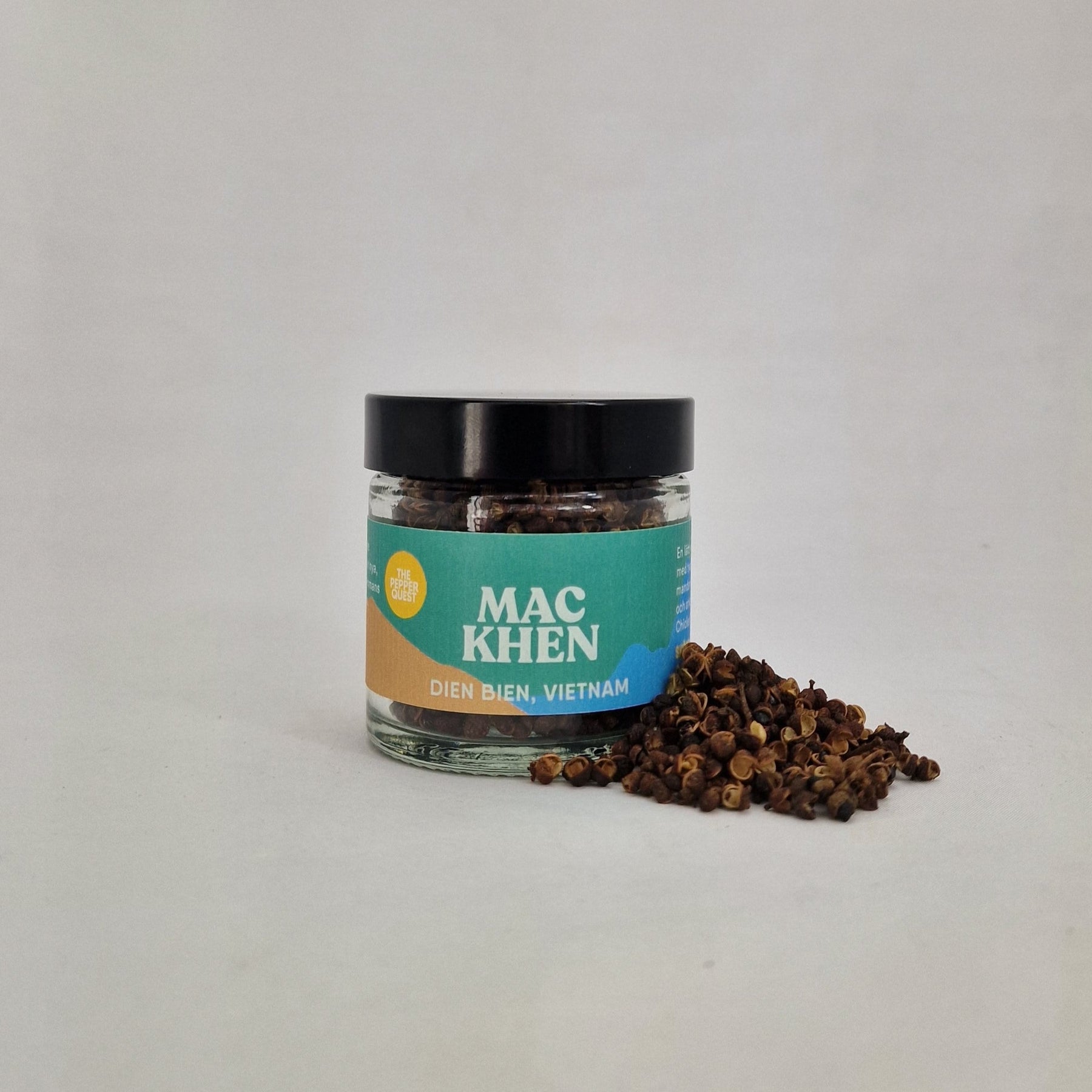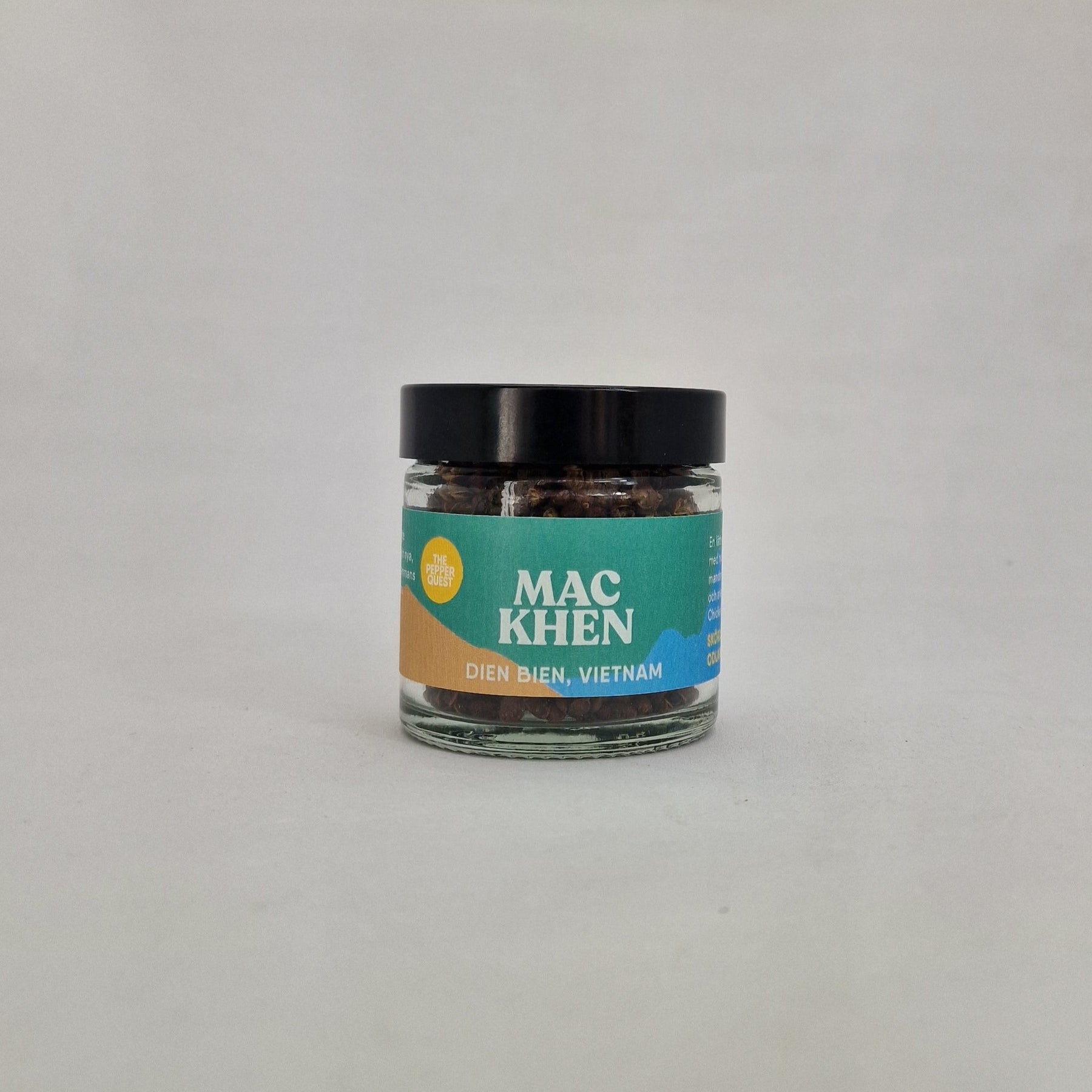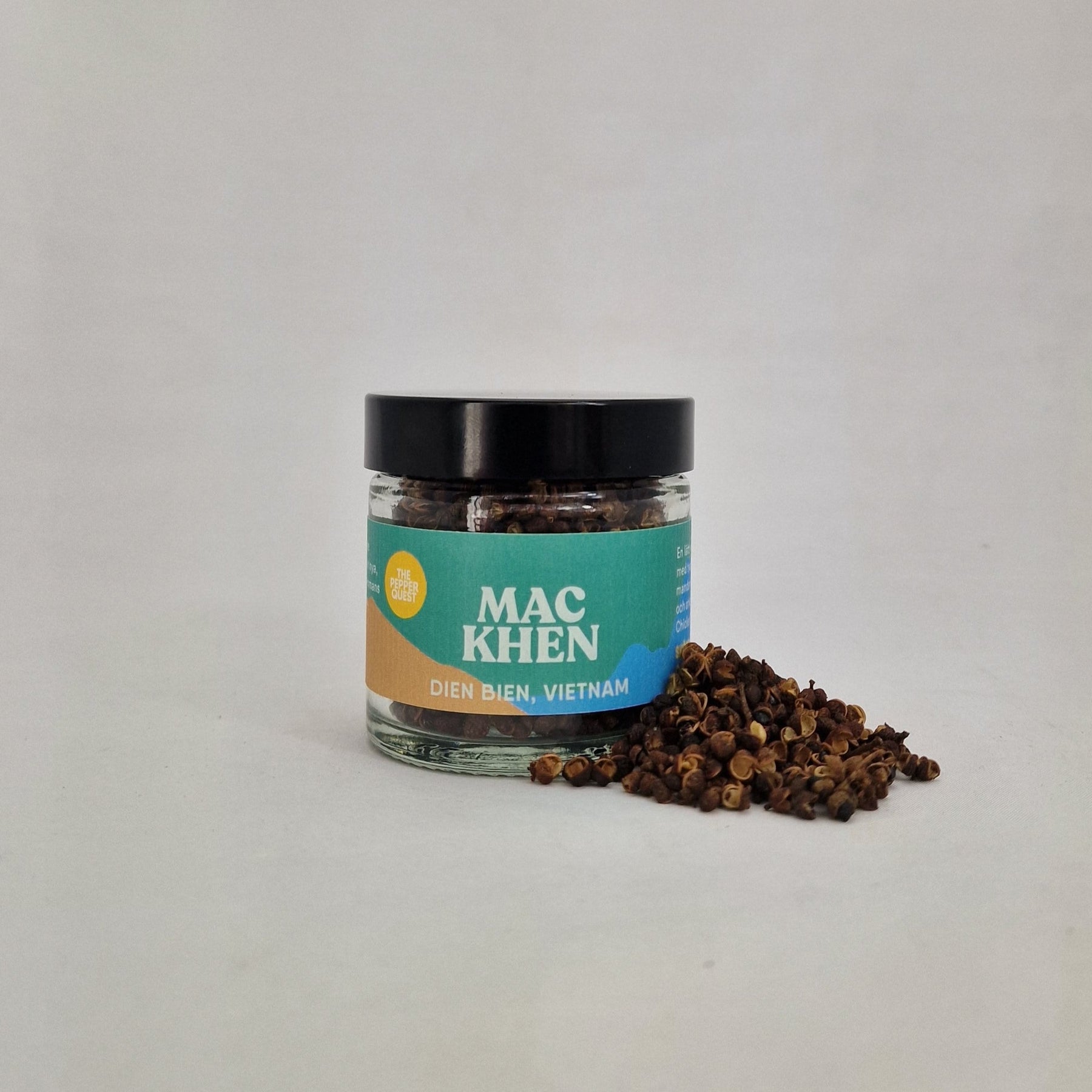 Mandarin
Electric
Rooibos
Size
Mac Khen is a cousin to Sichuan pepper and Batak Pepper in the plant genus Zanthoxylum. Commonly know as "Indian prickly ash", zanthoxylum rhetsa has its very own electric flavour profile with fruity citrus aroma.

The taste reminds like a mix of mandarin, clementine and rooibos tea. Mac Khen, an indispensable spice of ethnic groups in the northwestern region, especially the Muong people.

Our Mac Khen is from the region of Hoa Binh in Northwestern Vietnam and are hand picked by Nguyen Thi Vui. We source this spice together with Doi Spices who work closely with local farmers in Vietnam generating new livelihoods and markets for these communities.
The plant is a medium-sized tree that can grow up to 15-20 meters tall. It has thorny branches and compound leaves with small leaflets. The bark of Zanthoxylum rhetsa is often used in traditional medicine for its medicinal properties.

It is native to South and Southeast Asia, including countries such as India, Sri Lanka, Myanmar, Thailand, and Malaysia.
We have come across Mac Khen in many places in Southeast Asia. In Thailand it is called Makwaen and used a lot it spices mixes for fried chicken and a must in Northern Laab Muang.
In Laos and Cambodia it is used to spice up freshwater fish and poultry.

In Hoa Binh the Muong love to use the spice with fish sauce, lime and fresh herbs. They dry rub mac khen with freshwater fish like tilapia, on wild boar and sour bamboo soup, a specialty in the region.

We are looking forward to make duck l'orange with loads of Lang Son Star Anise, Mac Khen and a small hint of Doi seeds.

Here are a few ways you can cook with Zanthoxylum rhetsa:
1. Dry Roasting: Dry roast the Zanthoxylum rhetsa berries or seeds in a pan over low heat until they become fragrant. This helps to release their flavors and aromas. Once roasted, you can grind them into a powder using a spice grinder or mortar and pestle.
2. Spice Blend: Ground Zanthoxylum rhetsa can be used as a key ingredient in spice blends. Combine it with other spices like cumin, coriander, turmeric, and chili powder to create your own unique spice mix. Use this blend to season meats, vegetables, or even sprinkle it over roasted nuts for a flavorful snack.
3. Seasoning Meats: Rub a mixture of ground Zanthoxylum rhetsa, salt, and other spices onto meats such as chicken, fish, or lamb before grilling, baking, or frying. It imparts a distinctive citrusy and peppery flavor to the meat.
4. Pickling: Zanthoxylum rhetsa can be used in pickling recipes. Add a few whole berries or seeds to your pickling brine to infuse it with a tangy and slightly numbing flavor.
5. Flavoring Sauces and Soups: Add a few crushed Zanthoxylum rhetsa berries or seeds to sauces, marinades, or soups to impart a unique taste. The citrusy and peppery notes can add depth to your dishes.
Free Shipping: Over 550 sek
Shipping: From 28 sek
Send-outs: Every Wednesday*
*Summer Shipment: 12 july, 2 aug, 16 aug
Returns: 100% happiness guarantee. Read more here
- VISA
- Mastercard
- AMEX
- Klarna
- Shopify Payments (Shop pay)
- Google Pay
- Apple Pay

We have a 100% happiness policy when you buy our spices. If the spices do not succeed to wow you we will make sure to refund/re-send other flavors to make sure you are 100% happy with your purchase. 

If your order is damaged or broken in transit, we are happy to refund/re-send, simply email us your order # and images to hello@thepepperquest.com

For food safety reasons, we are unable to accept returns on opened products, but will do whatever we can to make sure you are happy with your purchase!

Please note that the policy lasts 30 days. If 30 days have gone by since your purchase, unfortunately we can't offer you a refund or exchange.
Complete your spice rack
Explore more regional spices and other flavors that complement your cooking.
At the moment we only ship within Scandinavia. Shipping costs will apply, and will be added at checkout. We run discounts and promotions all year, so stay tuned for exclusive deals. If you are located outside Scandinavia, don't be discouraged! Send us an email and we will see what we can sort out for you!
We love food, we love the discovery, flavor combinations and we want to learn, spread that knowledge and collaborate. We asked questions that no one could answer, so we had to go and find the answers ourselves. We love that it is a rediscovery of something very known to us all , yet has the possibility to teach us something completely new. We love what food brings to the table, the meeting, the ceremony, the bridging of cultures.
We are so proud to work closely with top restaurants in Scandinavia, focusing on quality and taste.
We recommend that you head over to Mattias Dahlgren and Rutabaga, Resturant AG, Airia, Frantzens, Warung, Nour, DoMa and many more if you like to bite into one of our peppercorns and spices. But hey, send us an email if you think your favorite restaurant should have our pepper.

Some more useful infoSome more useful infoSome more useful infoSome more useful infoSome more useful info
We work closely with our small scale farmers who uses traditional methods when growing their pepper and spices, like organic compost and no usage of pesticides. The usage of pesticides directly affects the flavor of the product.

We have connected with our farmers directly, meaning no middle hand. But this also means that they run smaller farms with no organic certifications. As our business grows we will able to take the next steps towards certifications. Stay tuned!
Finding the source, is finding the answer. We quest for unique high quality pepper and spices. We work harvest based and single origin only, meaning we only sell pepper from farmers we know. Many times we have tasted and smelled a spice knowing that there are more more lines of inquiry before reaching the very origin of the spice and the people who are cultivating it. Our way of working is special because we actually go to the farmers and we don't stop questing until we found the best of the best.
Mostly it is curiosity, openness and intuition that leads you to the right path.
Tax included.
We research, always knowing that it's when we go local we actually meet the right people. We make sure to live, eat, listen, dream and drink with our farmers and partners. From here we can start to see where we have common ground so we can create a value based foundation that support both of our needs. It is also very important that the partners and farmers we work with are anchored within their communities, so that generative development and liveihoods can be supported by our collaboration.