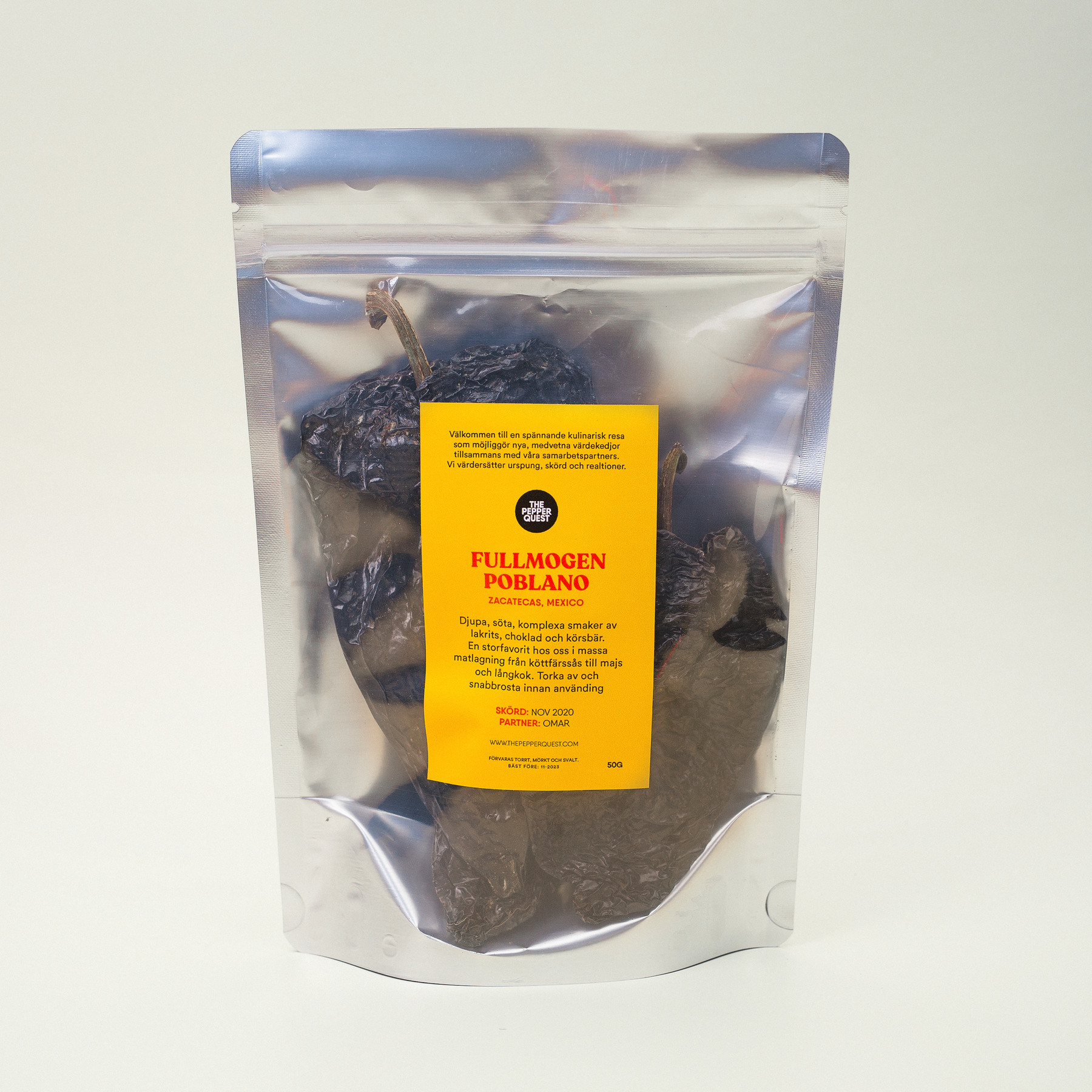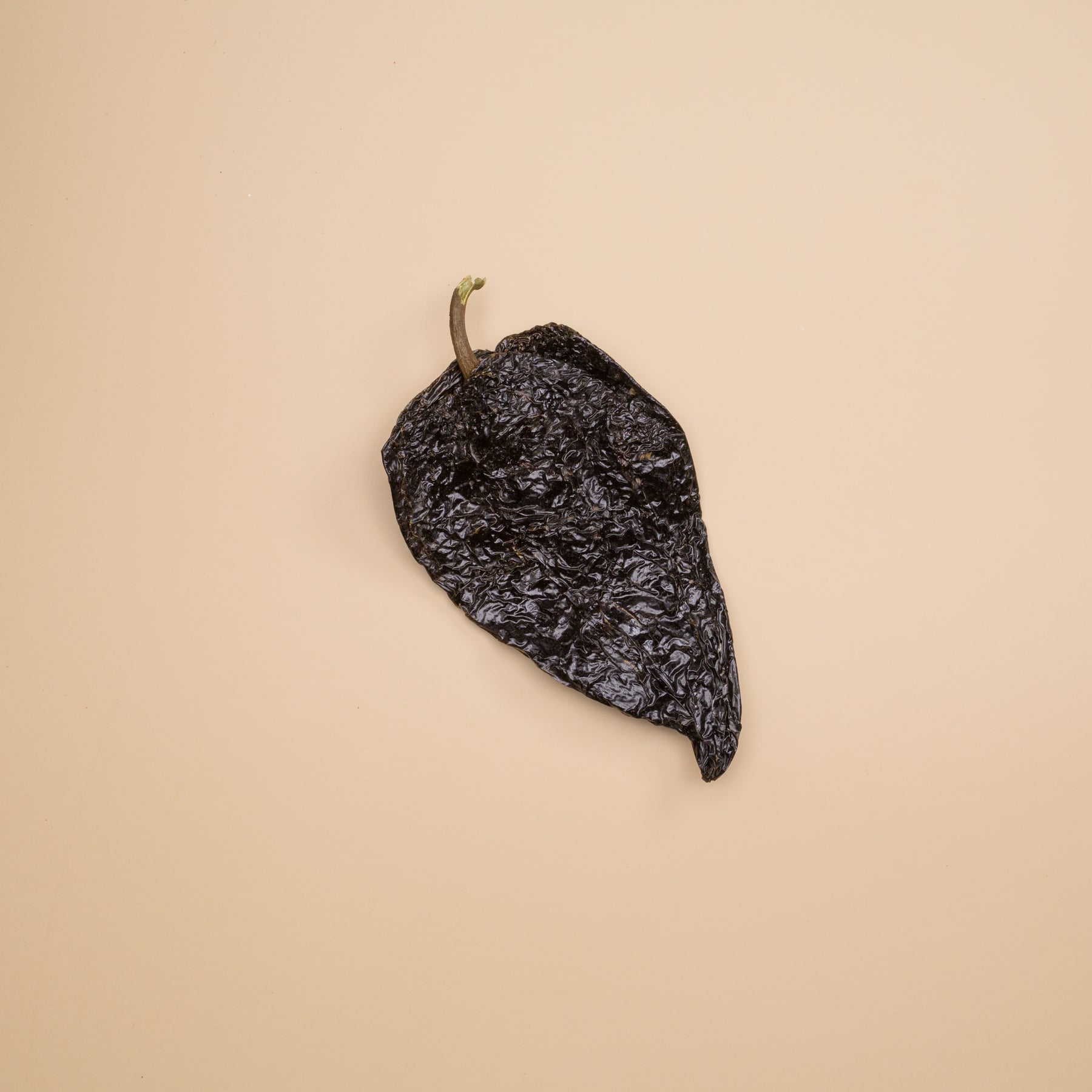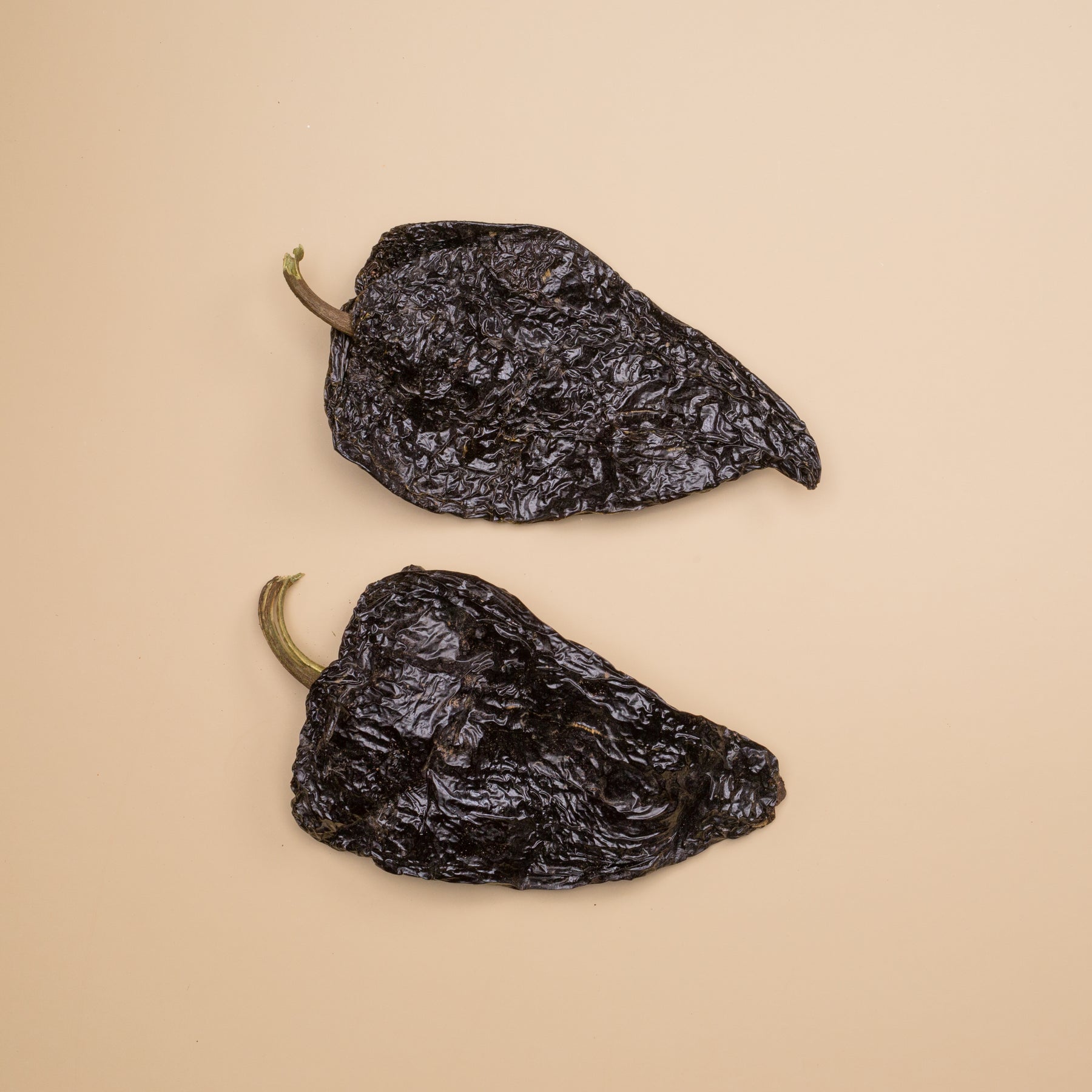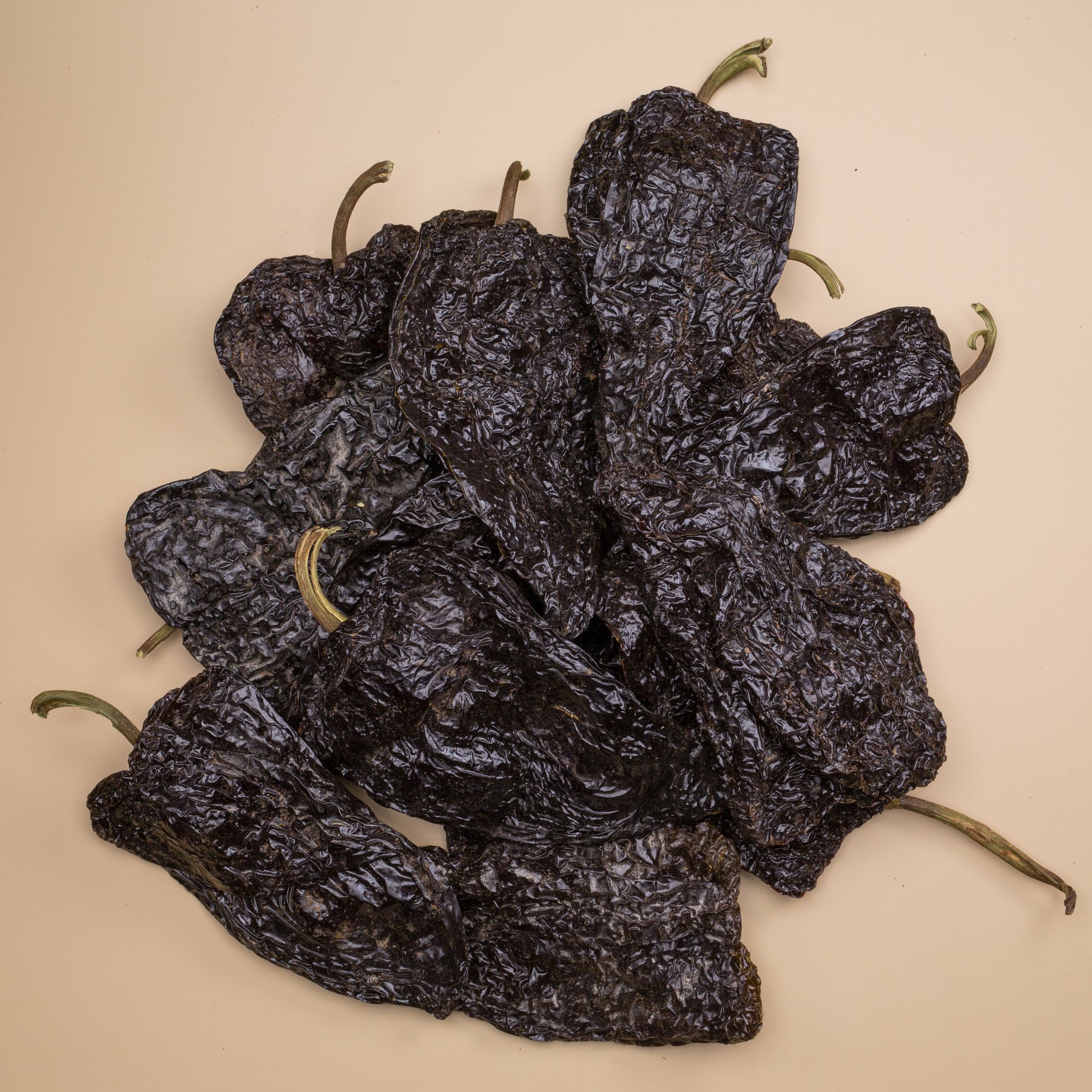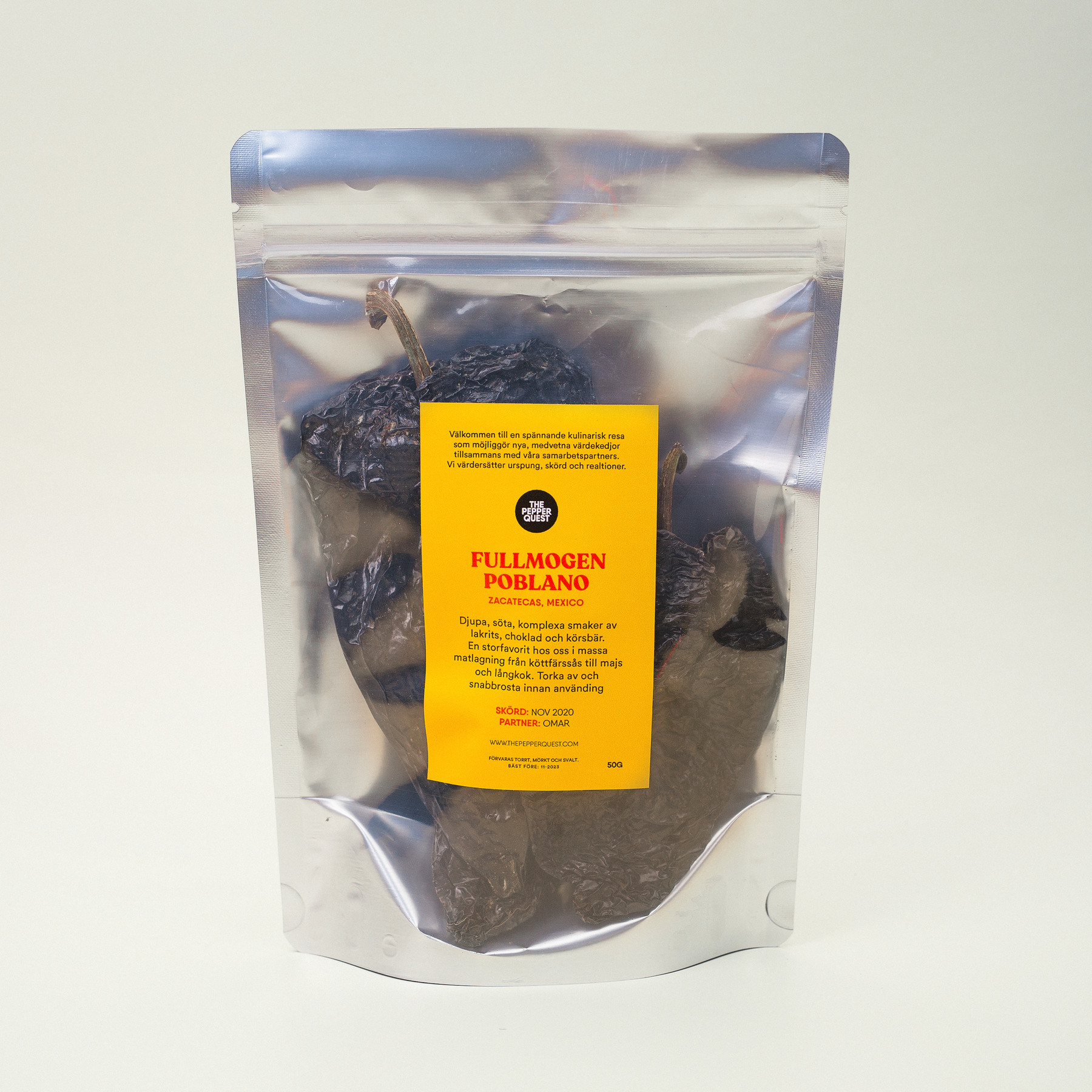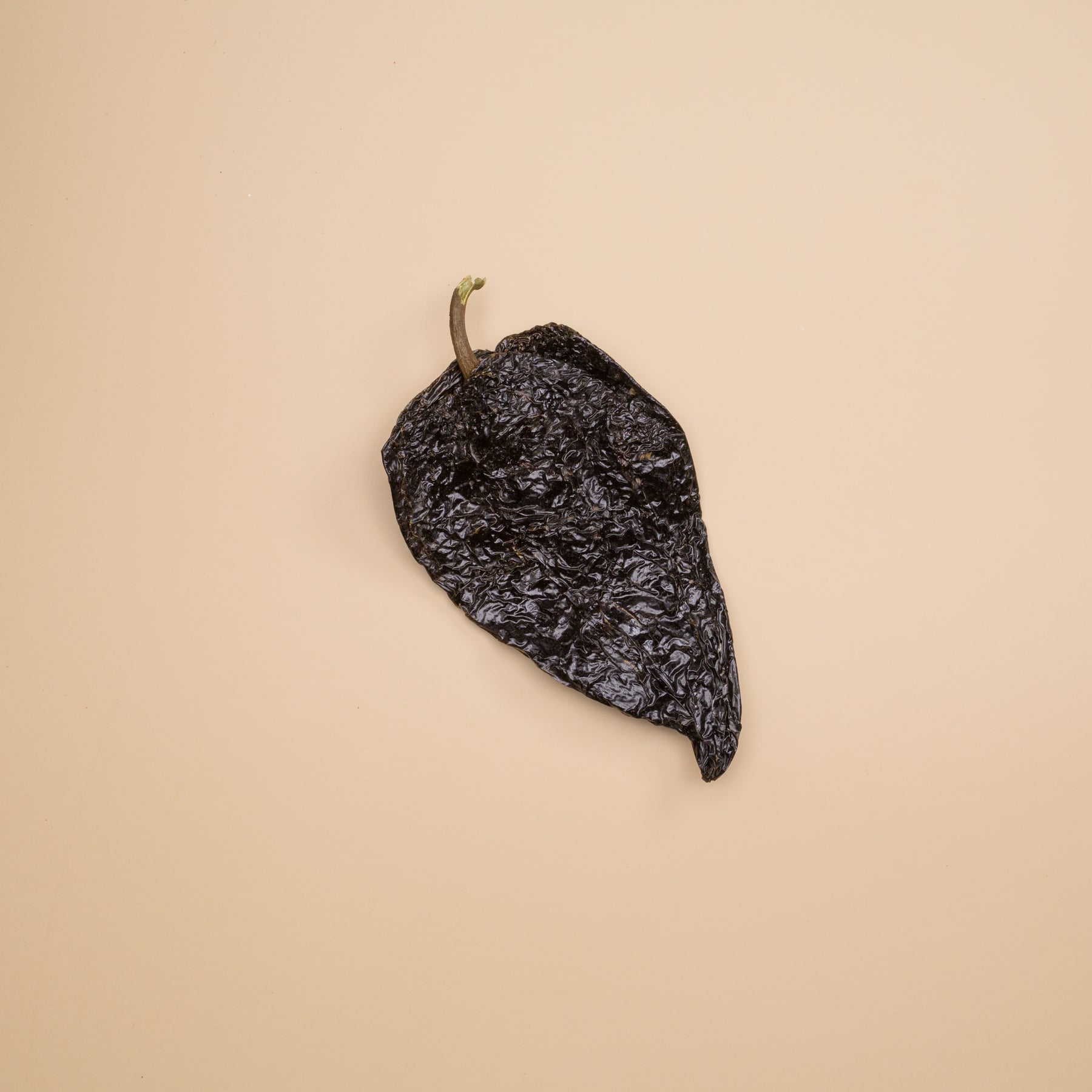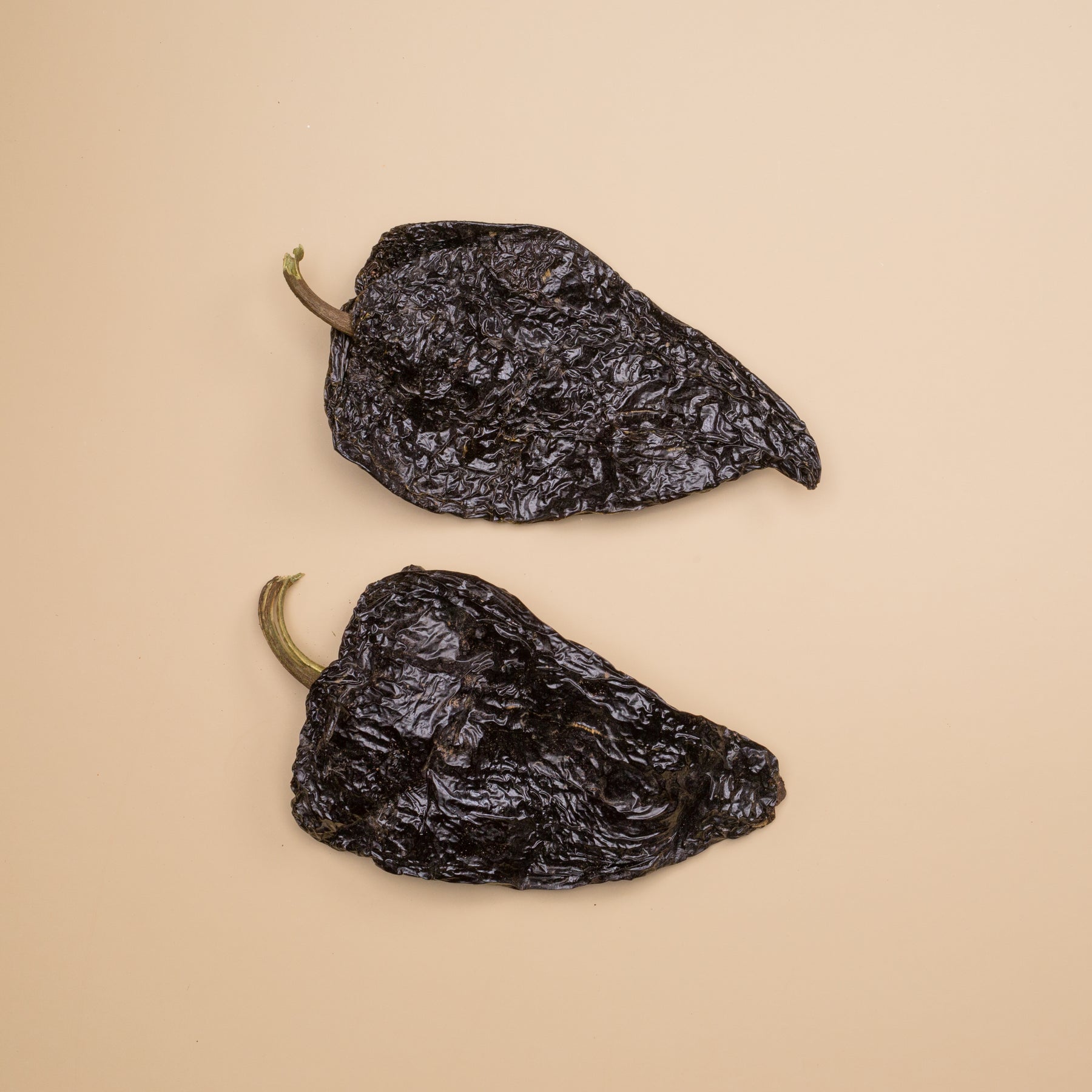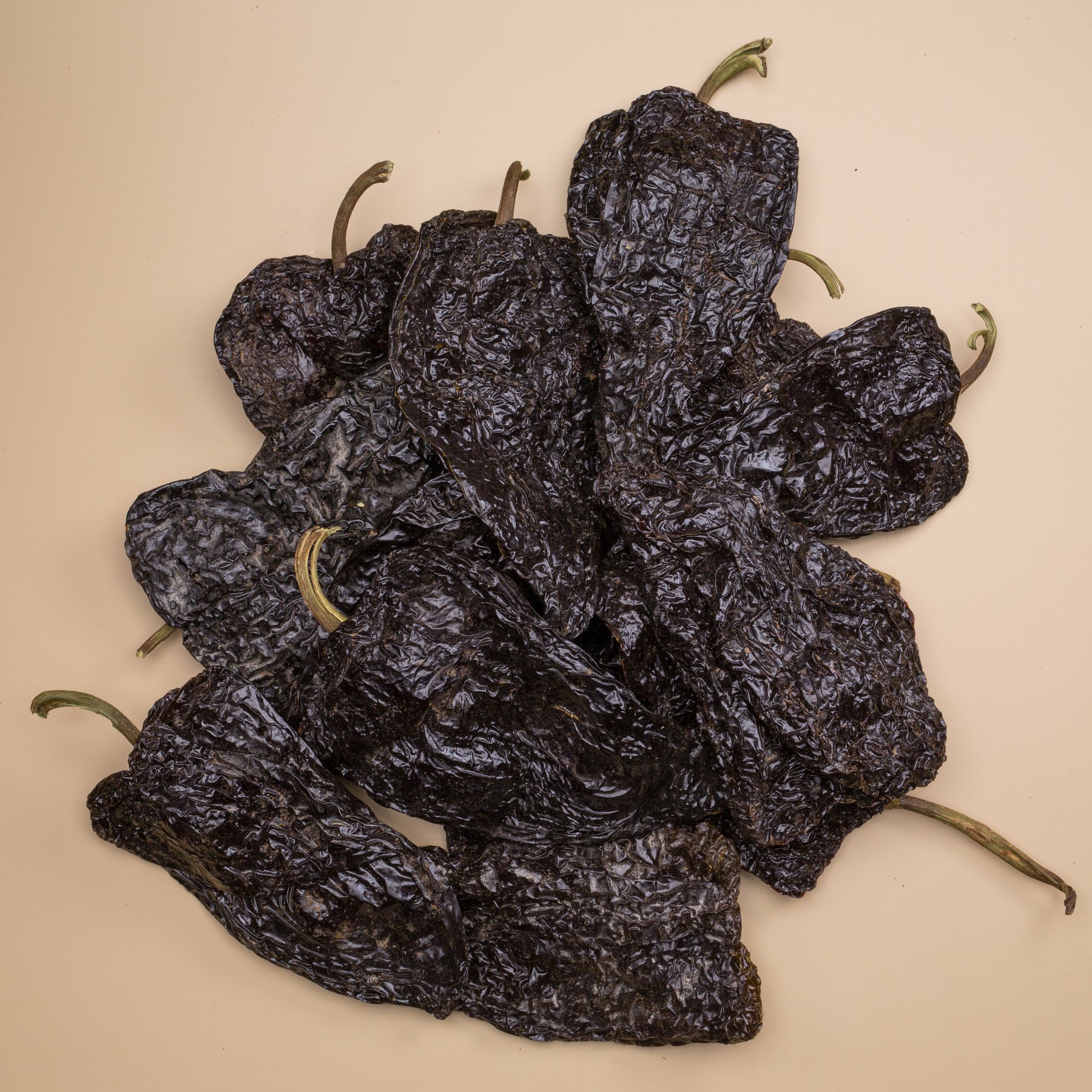 Liqorice
Cherry
Chocolate
Name
Fully Matured Poblano
Size
Pickup currently unavailable at The Pepper Quest Smakstudio
The Pepper Quest Smakstudio
Pickup currently unavailable
Regeringsgatan 82
111 39 Stockholm
Sweden
Fully matured poblano is very similar to Ancho as they both come from the fresh Poblano chili but there are differences, especially in taste. Both are green in the initial growth state but Ancho matures to a deep red color and the fully matured poblano towards a darker color, a very dark brown shade.

The darker color is also evident in the taste profile where hints of licorice, chocolate, cherries and even tobacco are reminiscent. Like Ancho, it is slightly smoky and due to its dark elements it's popular in the many versions of the Mexican National Sauce – Mole.

Our Ancho chili is sourced from the state of Zacatecas, south of the city of Fresnillo, from a farm operated by Omar and his family. Here the dry cool climate is perfectly suited to grow many of the famous Mexican chilis with full sunlight, high temperatures and perfect rainfall in the rainy season. It has been oven dried without smoke. During the drying time the taste changes significantly, one could compare it with grapes vs. raisins. 
Derived from: Poblano Chili
Scoville: 2500-3000 


Always wipe clean and toast the chili before use to wake up the flavors.
Fully matured poblano is a strong, thick, flat slightly teardrop shaped chili. The shell is meaty, lumpy, dark brown in color. It is the fully dried version of Poblano chili, a chili the originates from the state of Puebla Mexico. Dried poblano takes two forms – Ancho and "Mulato" (however, we like to call the later for Fully matured poblano). The difference is when the poblano is harvested. Ancho Chili is the dried almost mature fruit.

The fruit is 6-16 cm big and grows on small bushes that reach up to 60 cm. From seed to harvest it takes around 200 days.

Our fully matured poblano is from our partner Omars family farm in the region of Calera in Xacatecas. Located on the Mexican plateau on the fringes of the Sierra Madre Occidental mountain range it offers the perfect climate for growing poblano, mirasol and chilaca chilis. The dry, arid weather gives the annual plants enough heat to germinate seeds, sprout the first growth and just start to bloom before the warm rainy season sets in followed by months of sun before harvest.

All chili is native to Central and South America and research suggest that cultivation of this plant is over 8000 years old (Aji Amarillo in Peru). The Inca, Mayan, Aztec and other ancient cultures all cultivated chilis from wild species that then made their way all over the world via the Spanish.
Pair with: Tacos, mole, salsa, butter, chicken, pork, corn, beef, beans, onion, garlic, cumin, Mexican oregano, cacao, vanilla, tamarind, tomato, bread.

First of all dry clean and cut of the stems of your ancho chilis. You can de-seed them but since they are very mild this is not necessary. Heat will help these chilis come back to life and develop that complex flavor so toast your chilis. Either in the oven at 200c for 1-2 minutes or 20-30 seconds in a hot pan on both sides.

From here you can either chop or grind the chilis if you want to use it in powdered form. If you with to puree the chili we recommend to cover the chilis in hot tap water and let them soak for 30 minutes. When this is done you can easily add them to sauces, salsa, moles or stews. The soak water can also be used but try it first and see how it fits your palate.
Free Shipping: Over 550 sek
Shipping: From 28 sek
Send-outs: Every Wednesday*
*Summer Shipment: 12 july, 2 aug, 16 aug
Returns: 100% happiness guarantee. Read more here
- VISA
- Mastercard
- AMEX
- Klarna
- Shopify Payments (Shop pay)
- Google Pay
- Apple Pay

We have a 100% happiness policy when you buy our spices. If the spices do not succeed to wow you we will make sure to refund/re-send other flavors to make sure you are 100% happy with your purchase. 

If your order is damaged or broken in transit, we are happy to refund/re-send, simply email us your order # and images to hello@thepepperquest.com

For food safety reasons, we are unable to accept returns on opened products, but will do whatever we can to make sure you are happy with your purchase!

Please note that the policy lasts 30 days. If 30 days have gone by since your purchase, unfortunately we can't offer you a refund or exchange.
Complete your spice rack
Explore more regional spices and other flavors that complement your cooking.
At the moment we only ship within Scandinavia. Shipping costs will apply, and will be added at checkout. We run discounts and promotions all year, so stay tuned for exclusive deals. If you are located outside Scandinavia, don't be discouraged! Send us an email and we will see what we can sort out for you!
We love food, we love the discovery, flavor combinations and we want to learn, spread that knowledge and collaborate. We asked questions that no one could answer, so we had to go and find the answers ourselves. We love that it is a rediscovery of something very known to us all , yet has the possibility to teach us something completely new. We love what food brings to the table, the meeting, the ceremony, the bridging of cultures.
We are so proud to work closely with top restaurants in Scandinavia, focusing on quality and taste.
We recommend that you head over to Mattias Dahlgren and Rutabaga, Resturant AG, Airia, Frantzens, Warung, Nour, DoMa and many more if you like to bite into one of our peppercorns and spices. But hey, send us an email if you think your favorite restaurant should have our pepper.

Some more useful infoSome more useful infoSome more useful infoSome more useful infoSome more useful info
We work closely with our small scale farmers who uses traditional methods when growing their pepper and spices, like organic compost and no usage of pesticides. The usage of pesticides directly affects the flavor of the product.

We have connected with our farmers directly, meaning no middle hand. But this also means that they run smaller farms with no organic certifications. As our business grows we will able to take the next steps towards certifications. Stay tuned!
Finding the source, is finding the answer. We quest for unique high quality pepper and spices. We work harvest based and single origin only, meaning we only sell pepper from farmers we know. Many times we have tasted and smelled a spice knowing that there are more more lines of inquiry before reaching the very origin of the spice and the people who are cultivating it. Our way of working is special because we actually go to the farmers and we don't stop questing until we found the best of the best.
Mostly it is curiosity, openness and intuition that leads you to the right path.
Tax included.
We research, always knowing that it's when we go local we actually meet the right people. We make sure to live, eat, listen, dream and drink with our farmers and partners. From here we can start to see where we have common ground so we can create a value based foundation that support both of our needs. It is also very important that the partners and farmers we work with are anchored within their communities, so that generative development and liveihoods can be supported by our collaboration.