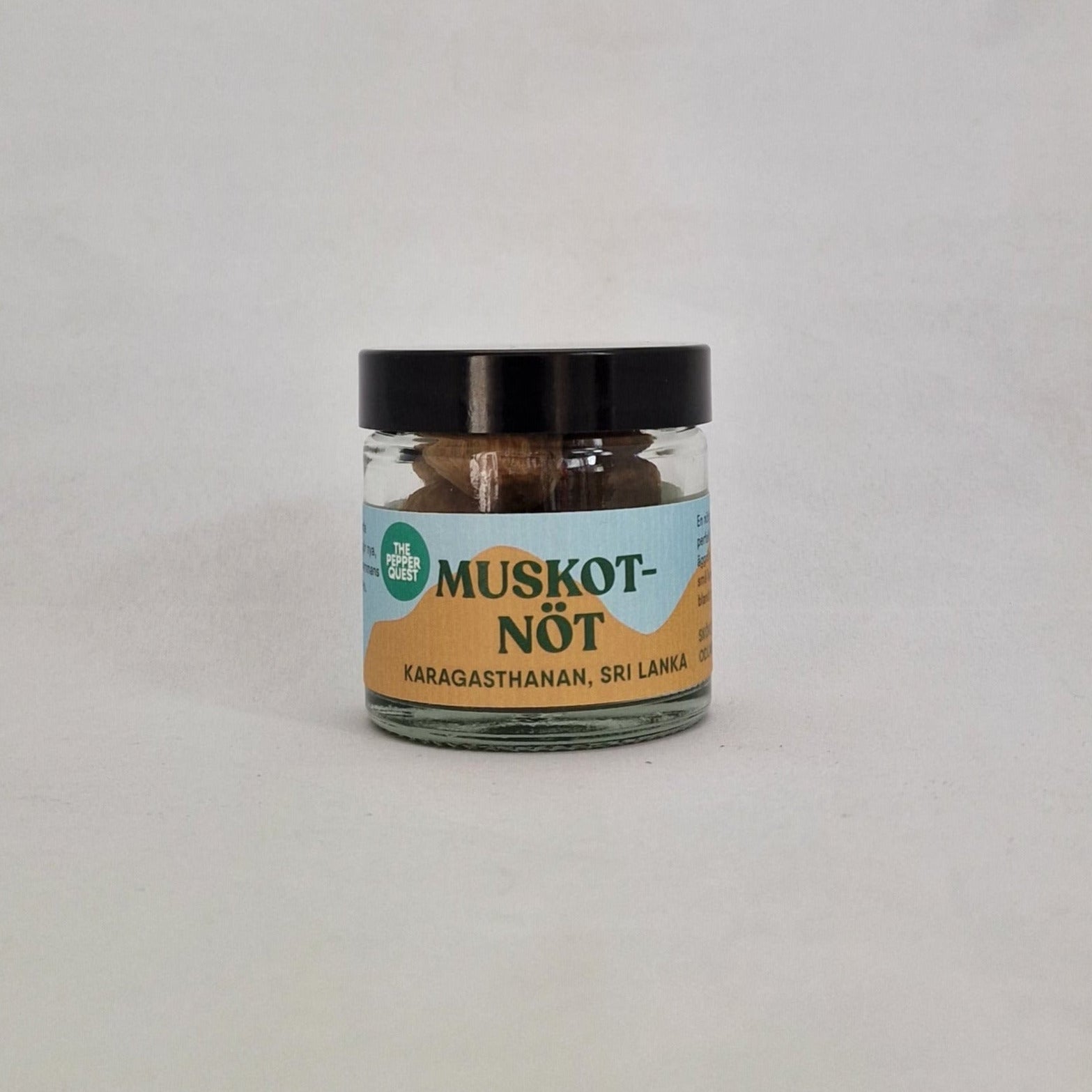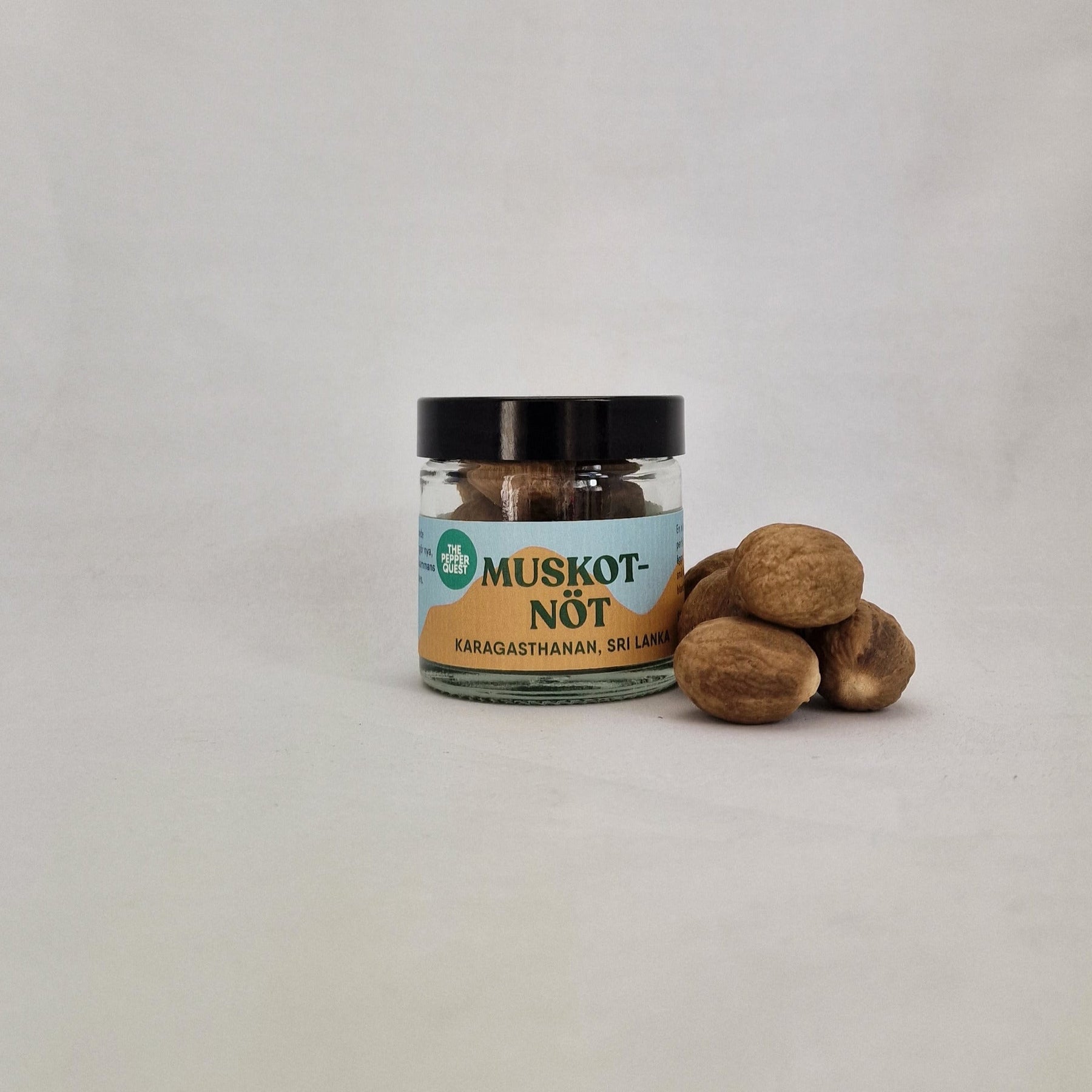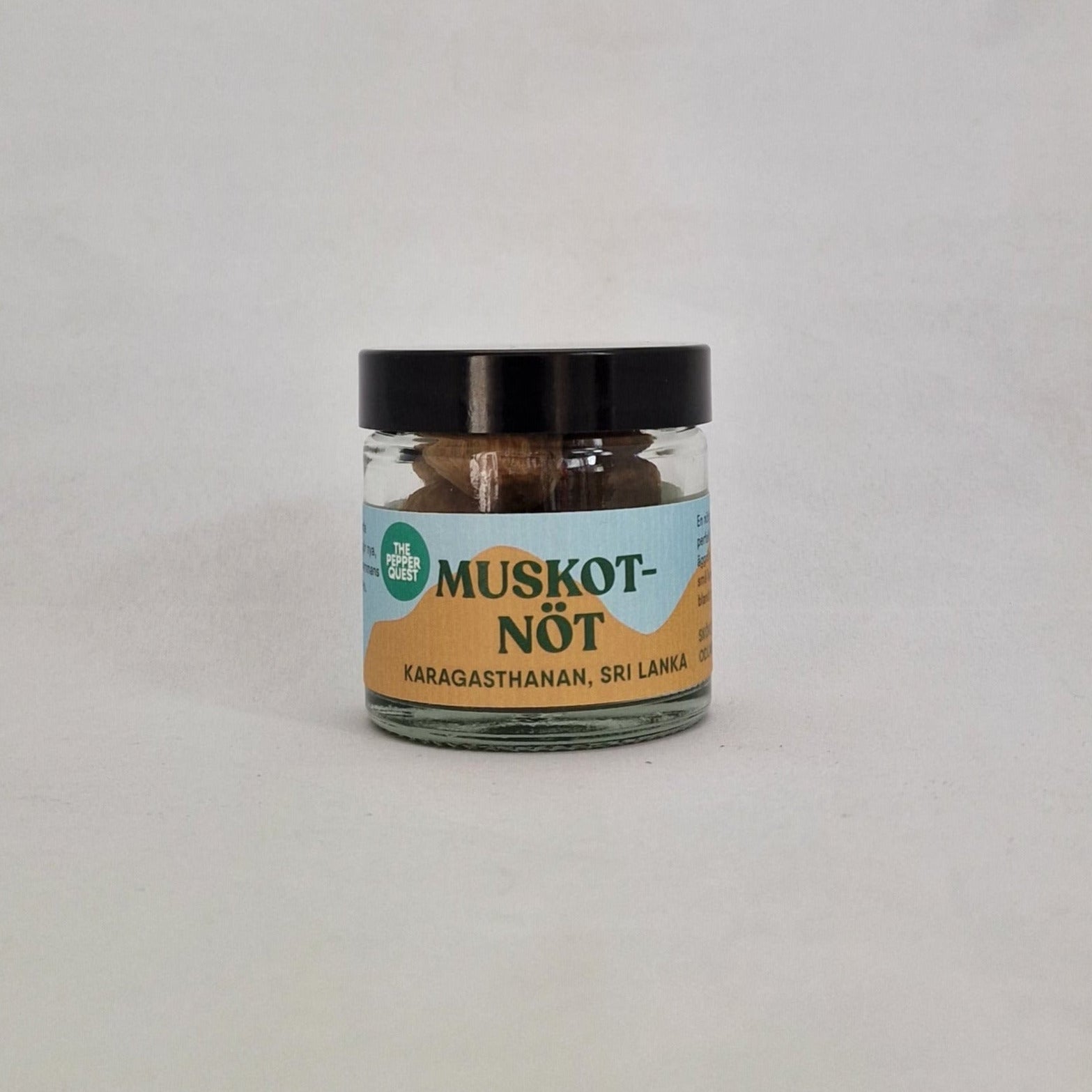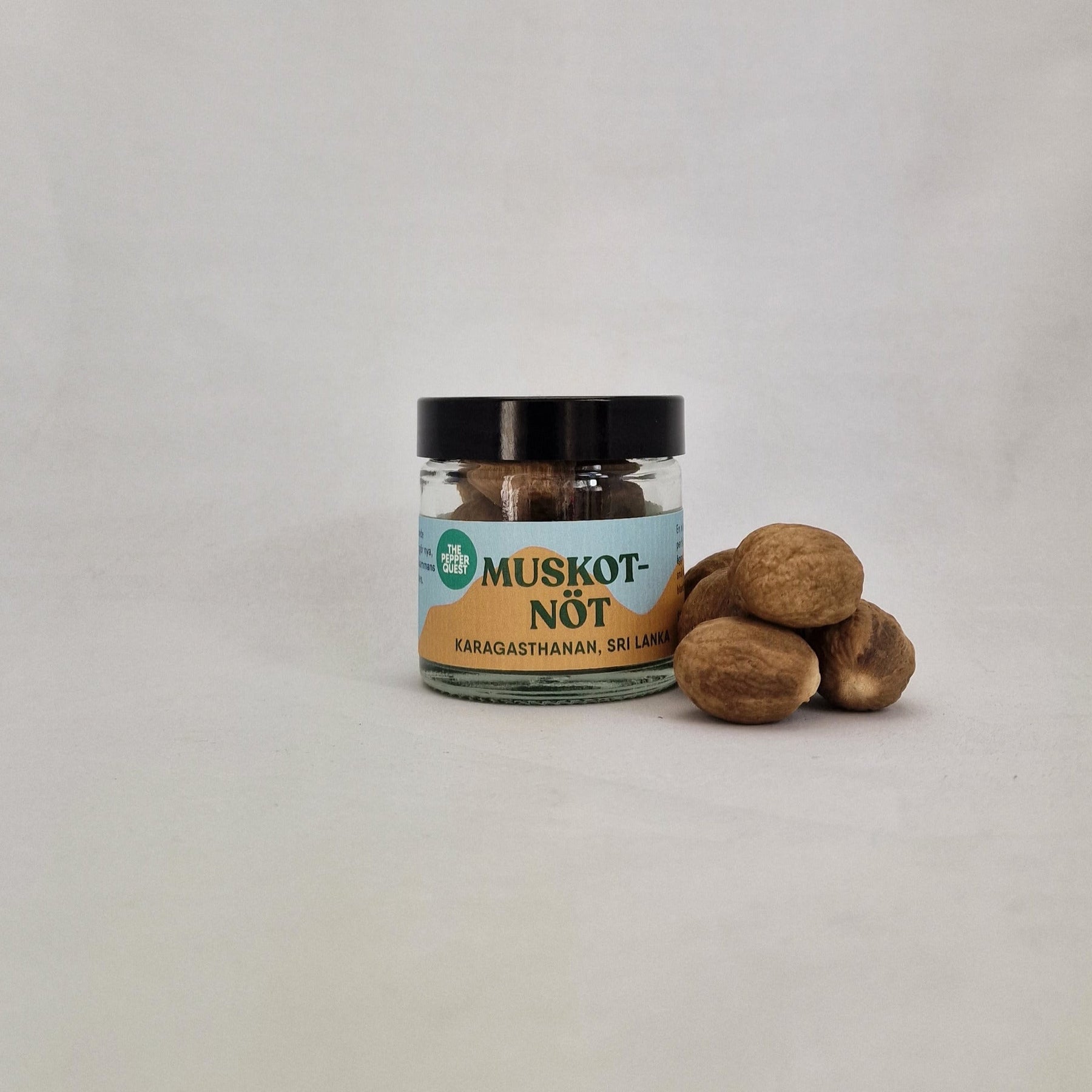 Origin
Karagasthanan, Sri Lanka
Partner
S.P. Samarashinghe
Nutmeg has a warm and sweet flavor with hints of clove and cinnamon, and is often used in both sweet and savory dishes. Nutmeg comes from the seed of the nutmeg tree, which produces both nutmeg and mace, which are two distinct spices with unique flavors and uses.

Our nutmeg is harvested and sun dried by the family of S.P. Samarsinghe in Karagasthenna, Sri Lanka. We source the spice together with Nihal and Remon of Eko Land Spices in Sri Lanka.

Locally in Sri Lanka the spice is used in spice blends, biriyani and curries.
We love using this spice in mashed potato, spinach dishes and the frying batter.

Use with moderation as there is a toxic component in Nutmeg. Consumption of more than 2 tablespoons of nutmeg at once can cause unpleasant symptoms.
BOTANY
The nutmeg tree, also known as Myristica fragrans, is an evergreen tree that is native to the Moluccas (also known as the Spice Islands) in Indonesia. It can grow up to 20 meters (65 feet) tall and has a dense, pyramidal shape.

The tree has narrow, dark green leaves that are about 5-15 cm (2-6 inches) long, and small, bell-shaped flowers that are yellow or white in color. The flowers are followed by a fruit, which is about the size of a small peach and has a yellow or red skin when ripe. The fruit contains a single seed, which is the nutmeg.

The nutmeg tree grows best in tropical climates with high humidity and rainfall, and requires well-drained soil that is rich in organic matter. It can be propagated from seeds, which take about 5-7 years to mature and start producing fruit.

Once the nutmeg tree starts producing fruit, it can continue to do so for up to 70 years. The fruit is harvested by hand when it is ripe, and the seed is then removed and dried in the sun or in a drying shed. The outer shell of the seed is removed, leaving the nutmeg kernel, which can be ground into a powder or used whole.

HISTORY
Nutmeg has a long history of use as a spice and medicinal herb. It comes from the lacy coating that surrounds the nutmeg seed, which is the fruit of the nutmeg tree (Myristica fragrans). The nutmeg tree is native to the Moluccas or Spice Islands in Indonesia, and mace has been traded and used in Asia for Millennia..

The ancient Greeks and Romans used mace as a medicine and culinary spice. In medieval Europe, mace was highly prized for its ability to preserve and flavor meat, and it was often used in sausages, pates, and other meat dishes. Mace was also used as a medicine to treat a variety of ailments, including digestive issues and respiratory infections.

During the Age of Exploration in the 16th century, the Portuguese and Dutch established a monopoly on the trade of nutmeg and mace. The Dutch controlled the Moluccas and began cultivating nutmeg and mace in other parts of the world, including Sri Lanka, Indonesia, and Grenada in the Caribbean.
Nutmeg is a versatile spice that can be used in a variety of ways to add flavor and aroma to dishes.
When using nutmeg, it's important to use it in moderation as it has a strong flavor and can easily overpower a dish. It's also best to use freshly grated nutmeg for the best flavor. Use a micro plane or small grater for best result.

Here are some of the best ways to use nutmeg:

1. Baked goods: Nutmeg is a classic ingredient in many baked goods, such as pumpkin pie, apple pie, and spice cake. It adds warmth and depth of flavor to these desserts and pairs well with other warm spices like cinnamon, allspice, and ginger.

2. Creamy sauces: Nutmeg pairs particularly well with creamy sauces, such as bechamel sauce and alfredo sauce. Just a pinch of nutmeg can add a subtle complexity to the sauce and enhance its overall flavor.

3. Vegetables: Nutmeg can be used to add flavor to cooked vegetables, such as spinach, broccoli, and cauliflower. It pairs particularly well with root vegetables like sweet potatoes and carrots.

4. Meat dishes: Nutmeg can be used to flavor meat dishes, such as meatballs, meatloaf, and beef stews. It pairs particularly well with rich, hearty meats like beef and pork.

5. Hot beverages: Nutmeg can be added to hot beverages like glögg, mulled wine and hot cider for a warming, aromatic touch.

In summary, this versatile spice that can be used in a variety of ways to add flavor and aroma to dishes. It pairs particularly well with baked goods, creamy sauces, vegetables, meat dishes, and hot beverages. Use it in moderation and grate it fresh for the best flavor.
Free Shipping: Over 550 sek
Shipping: From 28 sek
Send-outs: Every Wednesday*
*Summer Shipment: 12 july, 2 aug, 16 aug
Returns: 100% happiness guarantee. Read more here
- VISA
- Mastercard
- AMEX
- Klarna
- Shopify Payments (Shop pay)
- Google Pay
- Apple Pay

We have a 100% happiness policy when you buy our spices. If the spices do not succeed to wow you we will make sure to refund/re-send other flavors to make sure you are 100% happy with your purchase. 

If your order is damaged or broken in transit, we are happy to refund/re-send, simply email us your order # and images to hello@thepepperquest.com

For food safety reasons, we are unable to accept returns on opened products, but will do whatever we can to make sure you are happy with your purchase!

Please note that the policy lasts 30 days. If 30 days have gone by since your purchase, unfortunately we can't offer you a refund or exchange.
Complete your spice rack
Explore more regional spices and other flavors that complement your cooking.
At the moment we only ship within Scandinavia. Shipping costs will apply, and will be added at checkout. We run discounts and promotions all year, so stay tuned for exclusive deals. If you are located outside Scandinavia, don't be discouraged! Send us an email and we will see what we can sort out for you!
We love food, we love the discovery, flavor combinations and we want to learn, spread that knowledge and collaborate. We asked questions that no one could answer, so we had to go and find the answers ourselves. We love that it is a rediscovery of something very known to us all , yet has the possibility to teach us something completely new. We love what food brings to the table, the meeting, the ceremony, the bridging of cultures.
We are so proud to work closely with top restaurants in Scandinavia, focusing on quality and taste.
We recommend that you head over to Mattias Dahlgren and Rutabaga, Resturant AG, Airia, Frantzens, Warung, Nour, DoMa and many more if you like to bite into one of our peppercorns and spices. But hey, send us an email if you think your favorite restaurant should have our pepper.

Some more useful infoSome more useful infoSome more useful infoSome more useful infoSome more useful info
We work closely with our small scale farmers who uses traditional methods when growing their pepper and spices, like organic compost and no usage of pesticides. The usage of pesticides directly affects the flavor of the product.

We have connected with our farmers directly, meaning no middle hand. But this also means that they run smaller farms with no organic certifications. As our business grows we will able to take the next steps towards certifications. Stay tuned!
Finding the source, is finding the answer. We quest for unique high quality pepper and spices. We work harvest based and single origin only, meaning we only sell pepper from farmers we know. Many times we have tasted and smelled a spice knowing that there are more more lines of inquiry before reaching the very origin of the spice and the people who are cultivating it. Our way of working is special because we actually go to the farmers and we don't stop questing until we found the best of the best.
Mostly it is curiosity, openness and intuition that leads you to the right path.
Tax included.
We research, always knowing that it's when we go local we actually meet the right people. We make sure to live, eat, listen, dream and drink with our farmers and partners. From here we can start to see where we have common ground so we can create a value based foundation that support both of our needs. It is also very important that the partners and farmers we work with are anchored within their communities, so that generative development and liveihoods can be supported by our collaboration.