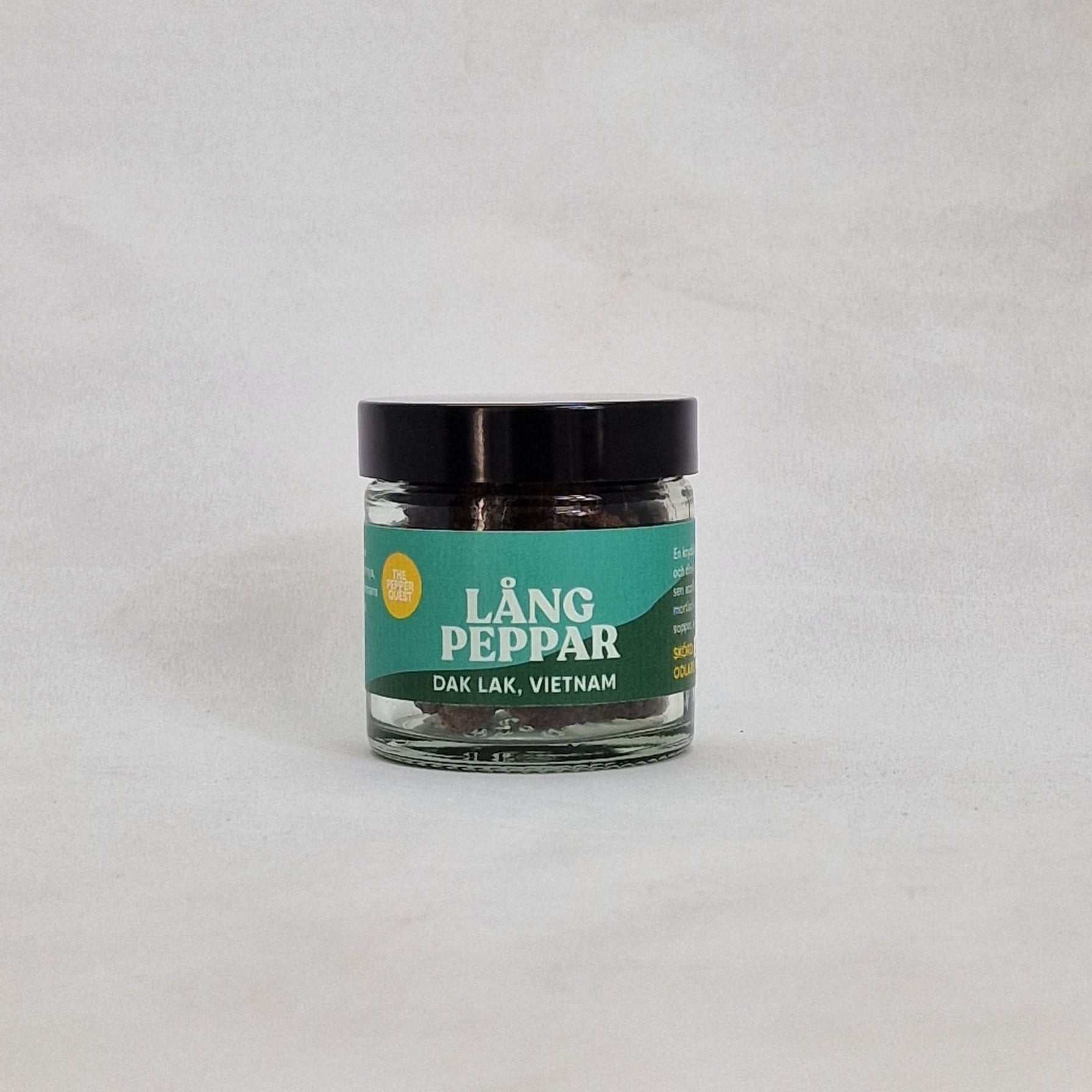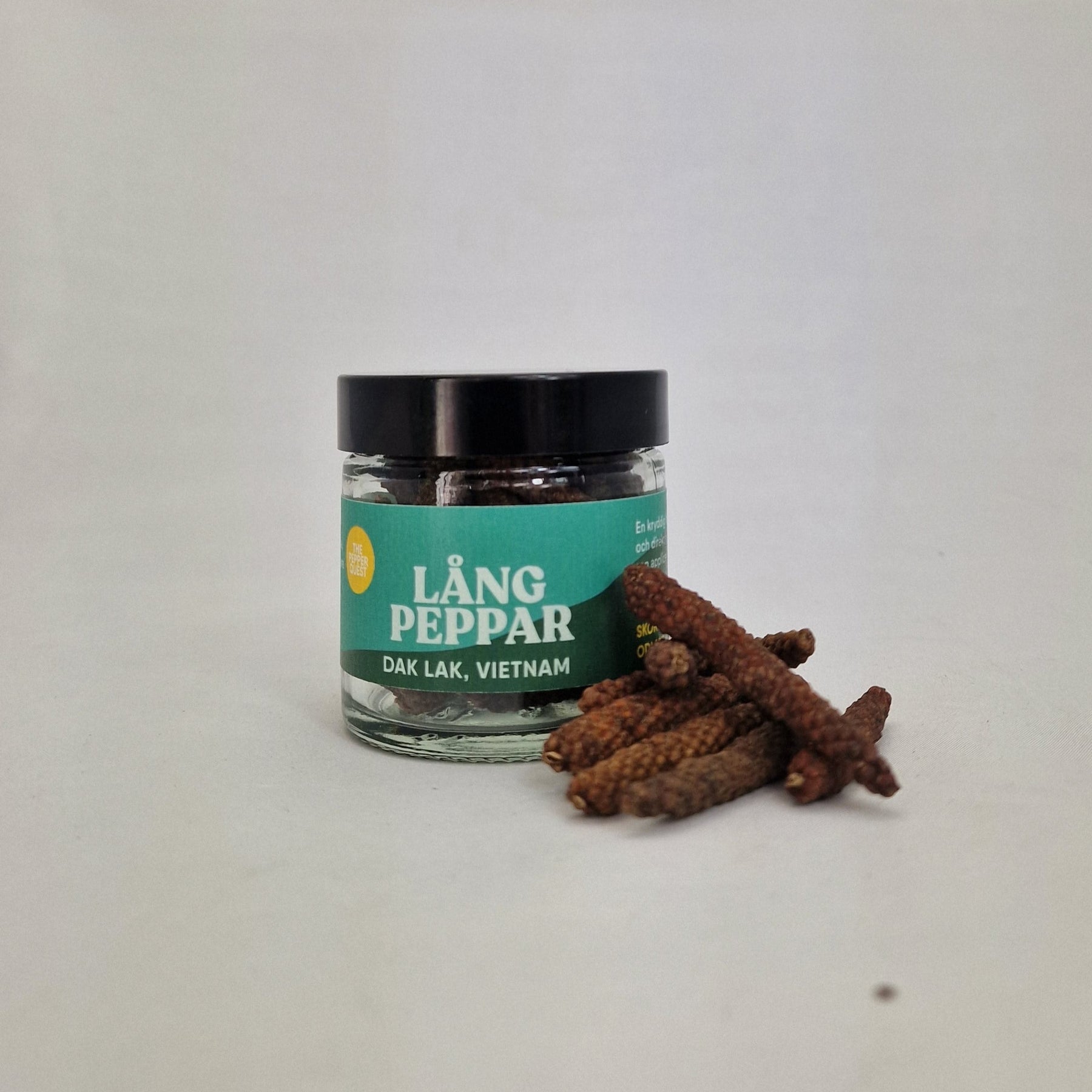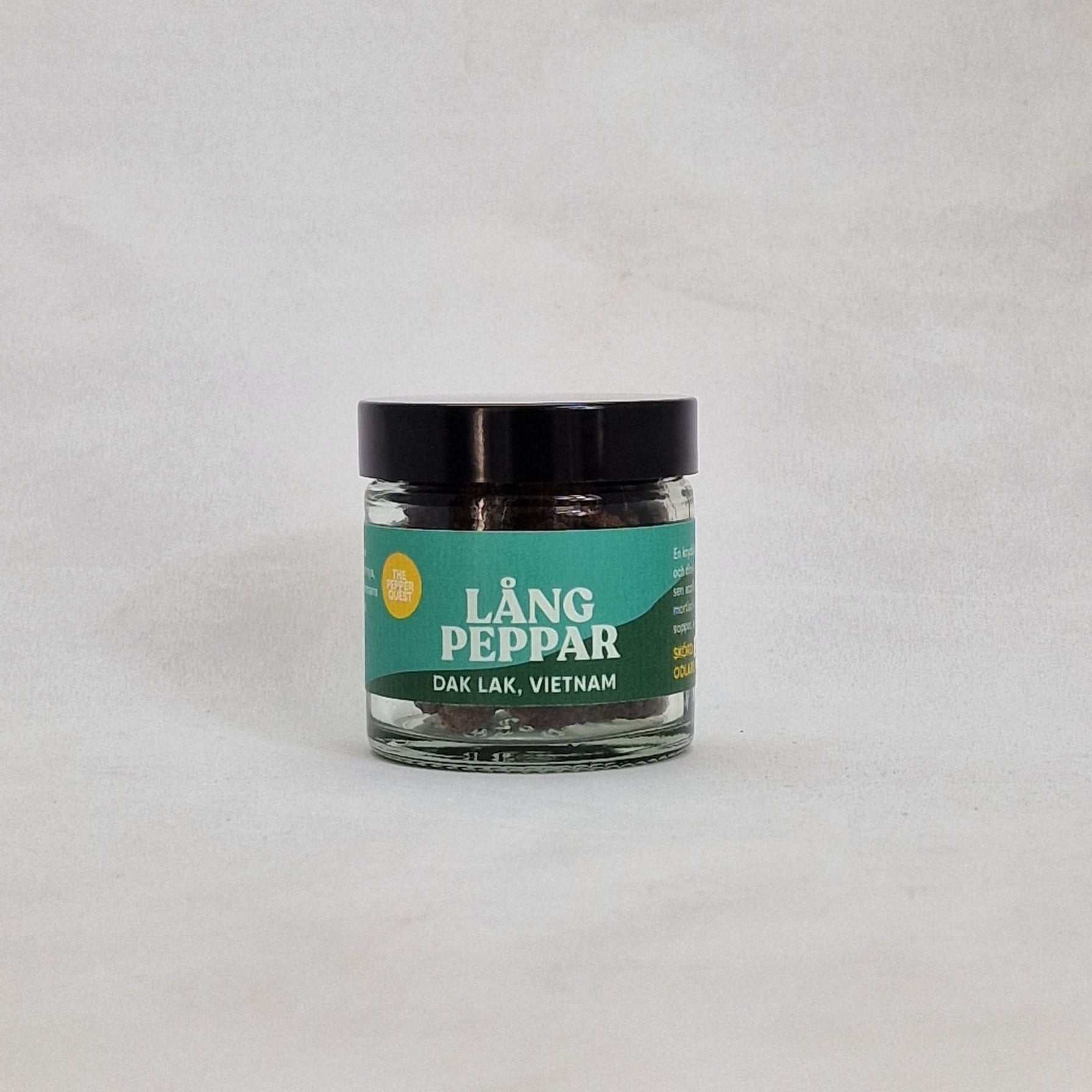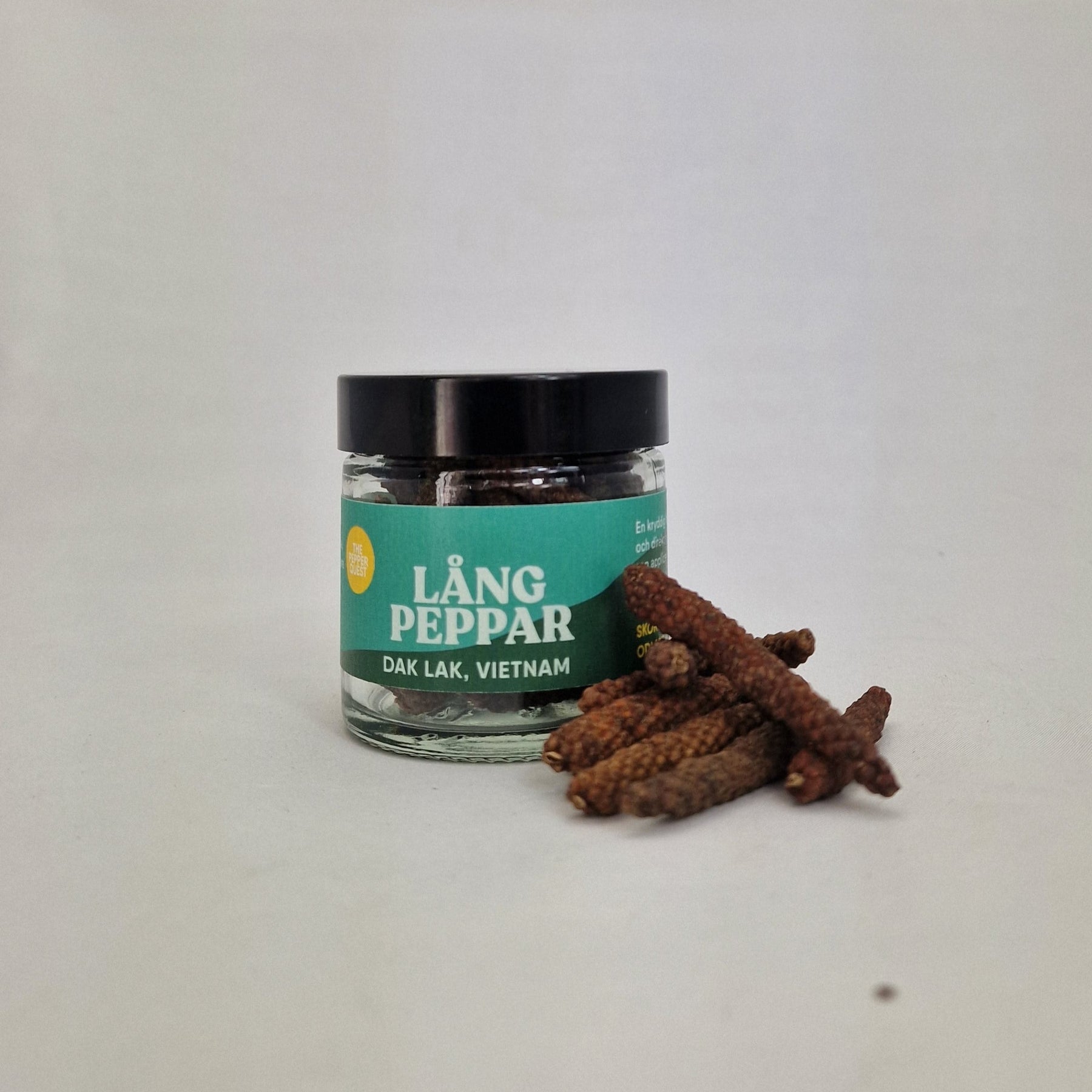 Size
This long peppar is straight fire. Loads of spicy heat with slight tones of cardamom and star anise. We use long pepper when stir frying green leafy veggies, in pickles, fried herring, dry rubs and stews. Also great for cakes and sweet desserts like grilled honey glazed nectarines.

This long pepper is cultivated and picked by Nguyen Van Hiep living in Dak Lak, Central Vietnam. We source this spice together with Doi Spices who work closely with local farmers in Vietnam generating new livelihoods and markets for these communities.

Long pepper, scientifically known as Piper longum, is a spice that has been used for centuries in various cuisines and as traditional medicine. It is native to South and Southeast Asia and is closely related to the more familiar black and white peppers.

The spice is unique in its appearance, resembling a long, thin catkin or a spiked pinecone. Its elongated shape sets it apart from the round peppercorns we commonly encounter. The flavor profile of long pepper is complex and distinct. It has a pungent and spicy taste with subtle hints of sweetness and a lingering warmth that develops gradually.
Long pepper holds a prominent place in traditional medical systems like Ayurveda, the ancient Indian system of medicine. In Ayurveda, it is considered a warming spice with various therapeutic properties.

History
Long pepper is believed to have originated in South and Southeast Asia, particularly in regions such as India, Indonesia, and Malaysia. It was one of the earliest spices known to humanity and has been cultivated and used for culinary and medicinal purposes since ancient times. The pepper was highly valued during the Roman Empire. It was imported from the East and considered a luxury spice.

Long pepper continued to be highly prized during the medieval and Renaissance eras in Europe. It was used in culinary preparations and was believed to have medicinal benefits. However, with the discovery of the sea route to India in the 15th century and the subsequent availability of black pepper, long pepper gradually lost its dominance in European spice markets.

While the popularity of long pepper declined in some regions over time, it remained an important ingredient in traditional Asian cuisines. In recent years, there has been a resurgence of interest in long pepper among chefs, food enthusiasts, and the spice industry, thanks to its unique flavor profile and potential health benefits.
In recent years, long pepper has gained attention in the culinary world and among spice enthusiasts. Its unique flavor and versatility have made it a sought-after ingredient in gourmet cuisine and fusion recipes. As a result, it has become more readily available in specialty spice shops and online marketplaces.
In culinary applications, long pepper adds a unique flavor to dishes. It is often used in spice blends, marinades, and sauces to enhance the taste of meat, poultry, fish, and vegetables. It can be ground, crushed or broken into bits and added to curries, soups, stews, and stir-fries.

Here are some tips on how to use long pepper in your culinary creations:
1. Grinding: Long pepper is often used in its ground form. To grind long pepper, break the spikes into smaller pieces and use a mortar and pestle or a spice grinder to crush them into a coarse powder. Grinding just before use helps retain the spice's flavors and aromas.
2. Spice Blends: Incorporate ground long pepper into spice blends to add depth and complexity. It pairs well with other spices like black pepper, cinnamon, cloves, star anise, flower peppers and cardamom. Experiment with your own spice blends or use it as an addition to existing ones, such as garam masala or curry powder.
3. Marinades and Sauces: Add long pepper to marinades for meat, poultry, or seafood. Its unique flavor profile can enhance the taste of grilled or roasted dishes. Incorporate ground long pepper into sauces, such as curries, stir-fries, or tomato-based sauces, to add a distinctive touch.
4. Infusions: Create infusions by steeping whole long pepper spikes in hot liquids like water, broth, or milk. This can be used as a base for soups, stews, or sauces, infusing the flavors of the spice into the dish. Remember to remove the spikes before serving.
5. Finishing Touch: Sprinkle ground long pepper as a finishing touch on cooked dishes, similar to how you would use freshly ground black pepper. It can add a subtle heat and unique flavor to salads, roasted vegetables, or even desserts like fruit salads or chocolate-based dishes.
6. Pickle: Long pepper is great to add whole in pickled vegetables.
A fun way to experiment with long pepper is to use it in baking or desserts. It brings a wonderful and unexpected twist to sweet flavours. Add it to chocolate ice cream or truffles. Bake cookies, spunge cakes or add it to your favourite creamy chocolate cakes. It also works fantastic in compotes and poached fruits.

Remember to start with small amounts of long pepper and adjust to your taste preferences, as it can have a strong and lingering heat. Its flavor profile is versatile, allowing it to be incorporated into both savory and sweet dishes, providing an exciting twist to your culinary creations.
Free Shipping: Over 550 sek
Shipping: From 28 sek
Send-outs: Every Wednesday*
*Summer Shipment: 12 july, 2 aug, 16 aug
Returns: 100% happiness guarantee. Read more here
- VISA
- Mastercard
- AMEX
- Klarna
- Shopify Payments (Shop pay)
- Google Pay
- Apple Pay

We have a 100% happiness policy when you buy our spices. If the spices do not succeed to wow you we will make sure to refund/re-send other flavors to make sure you are 100% happy with your purchase. 

If your order is damaged or broken in transit, we are happy to refund/re-send, simply email us your order # and images to hello@thepepperquest.com

For food safety reasons, we are unable to accept returns on opened products, but will do whatever we can to make sure you are happy with your purchase!

Please note that the policy lasts 30 days. If 30 days have gone by since your purchase, unfortunately we can't offer you a refund or exchange.
Complete your spice rack
Explore more regional spices and other flavors that complement your cooking.
At the moment we only ship within Scandinavia. Shipping costs will apply, and will be added at checkout. We run discounts and promotions all year, so stay tuned for exclusive deals. If you are located outside Scandinavia, don't be discouraged! Send us an email and we will see what we can sort out for you!
We love food, we love the discovery, flavor combinations and we want to learn, spread that knowledge and collaborate. We asked questions that no one could answer, so we had to go and find the answers ourselves. We love that it is a rediscovery of something very known to us all , yet has the possibility to teach us something completely new. We love what food brings to the table, the meeting, the ceremony, the bridging of cultures.
We are so proud to work closely with top restaurants in Scandinavia, focusing on quality and taste.
We recommend that you head over to Mattias Dahlgren and Rutabaga, Resturant AG, Airia, Frantzens, Warung, Nour, DoMa and many more if you like to bite into one of our peppercorns and spices. But hey, send us an email if you think your favorite restaurant should have our pepper.

Some more useful infoSome more useful infoSome more useful infoSome more useful infoSome more useful info
We work closely with our small scale farmers who uses traditional methods when growing their pepper and spices, like organic compost and no usage of pesticides. The usage of pesticides directly affects the flavor of the product.

We have connected with our farmers directly, meaning no middle hand. But this also means that they run smaller farms with no organic certifications. As our business grows we will able to take the next steps towards certifications. Stay tuned!
Finding the source, is finding the answer. We quest for unique high quality pepper and spices. We work harvest based and single origin only, meaning we only sell pepper from farmers we know. Many times we have tasted and smelled a spice knowing that there are more more lines of inquiry before reaching the very origin of the spice and the people who are cultivating it. Our way of working is special because we actually go to the farmers and we don't stop questing until we found the best of the best.
Mostly it is curiosity, openness and intuition that leads you to the right path.
Tax included.
We research, always knowing that it's when we go local we actually meet the right people. We make sure to live, eat, listen, dream and drink with our farmers and partners. From here we can start to see where we have common ground so we can create a value based foundation that support both of our needs. It is also very important that the partners and farmers we work with are anchored within their communities, so that generative development and liveihoods can be supported by our collaboration.